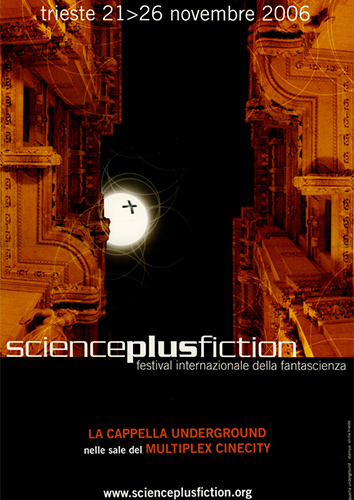 2006. Fantastic journey
Science+Fiction focuses on French cinéma de genre. Voyage fantastique is somehow a journey to the Festival past, as the winning film of the first edition was La jetée, of Chris Marker, and in 1965 the winning film was Alphaville, of Jean-Luc Godard.
During the opening night at Teatro Miela, while Godard's scenes are shown on the screen, Robin Rimbaud, alias Scanner, a multimedia artist, performs his electronic music.
The special guests of this edition – which celebrates also Stanislaw Lem, the great Polish novel writer who wrote Solaris and died in March 2006 – are Terry Gilliam and Enki Bilal, both awarded the Urania d'argento, and the writer Harry Harrison, the board president (he was the board president also in 1975).
Among the preview films there is El laberinto del fauno, a Guillermo del Toro's film.
One of the special programs is Daft Punk's Electroma, a psychedelic musical about the odyssey of two robots that want to turn human. This film, that has no dialogues, is signed by the famous house music French duo and is filled with a captivating soundtrack and impressive visual effects.
Giuria
Harry Harrison, John Baxter, John Oliver, Franziska Weisz, Daniele Auber
Location
Multiplex Cinecity, Teatro Miela
Premio Asteroide
Manga
by Peter Khazizov
Mélies d'argent Shorts
Final Journey
by Brendan Muldowney
Urania d'Argento
Enki Bilal, Terry Gilliam
Premio alla carriera
El Barón Contra los Demonios / Ricardo Ribelles
Daft Punk's Electroma / Thomas Bangalter + Guy Manuel De Homem-Christo
Earthlings – Ugly Bags of Mostly Water / Alexandre O. Philippe
Frostbiten / Anders Banke
Ghost Son / Lamberto Bava
Ils / David Moreau + Xavier Palud
Interkosmos / Jim Finn
Krrish / Rakesh Roshan
El Laberinto del Fauno / Guillermo Del Toro
Manga / Peter Khazizov
Nos Amis les Terriens / Bernard Werber
Renaissance / Christian Vlockman
Saints-Martyrs-des-Damnés / Robin Aubert
Sheitan / Kim Chapiron
Subject Two / Philip Chidel
Trapped Ashes / S. Cunningham + Joe Dante + J. Gaeta + M. Hellman + K. Russell
Wicked Flowers / Torico
Cinésens / Elie Duponchel + Hadrien Genest
Delivery / Till Nowak
Elöbb-Utóbb / István Madarász
Energy Hunter / Albert Arizza
Exploding Buds / Petra Schröder
Final Journey / Brendan Muldowney
The Green Hornet / Aurélien Poitrimoult
Home Delivery / Elio Quiroga
Ich Rette das Multiversum / Ulf Groote
Rezina Ziuljenja / Martin Turk
The Silver Rope / Fabio Guaglione + Fabio Resinaro
The Un-Gone / Simon Bovey
X / Raphael Wahl
A Milioni di Chilometri dalla Terra / Calogero Alaimo
Anatomy / Vincenzo Pandolfi
I Custodi – L'Inganno / Giuseppe Tandoi
Do You See Me? / Alessandro De Cristoforo
Nello Spazio di un Secondo / Alessandro De Cristoforo + Alessandro Villamira
The Shadow Within / Silvana Zancolò
Zerosigma 1.0 / Alex G. Raccuglia
Urania d'argento a Enki Bilal e Terry Gilliam
Bunker Palace Hôtel / Enki Bilal
Tykho Moon / Enki Bilal
Immortel (ad Vitam) / Enki Bilal
+
Tideland / Terry Gillaim
Jabberwocky / Terry Gillaim
Twelve Monkeys / Terry Gillaim
Lost in La Mancha / Terry Gillaim
The Brothers Grimm / Terry Gillaim
Alphaville / Jean-Luc Godard
Un Amour de Poche / Pierre Kast
Les Astronautes / Walerian Borowczyk, Chris Marker
Black Moon / Louis Malle
La Brûlure de Mille Soleils / Pierre Kast
Le Dernier Homme / Charles L. Bitsch
Fahrenheit 451 / François Truffaut
France Société Anonyme / Alain Corneau
Je t'Aime, Je t'Aime / Alain Resnais
La Jetée / Chris Marker
La Morte in Diretta / Bertrand Tavernier
Les Yeux sans Visage / Georges Franju
L'Empreinte de l'Ange / Cristophe Raynaud
Judas / Nicols Bary
Murielle, Moi non Plus / Christine Guilbaud
Oedipe (n+1) / Eric Rognard
Les Petits Hommes Vieux / Yann Chayia
Project Gamma / David Sarrio
Sergueï & Tatiana / Jean Yves
Shart / David Lino + Stephen Dronval
Venus Project / Olivier Jean
Special Guest Harry Harrison
2022: I Sopravvissuti / Richard Fleischer
Omaggio a Stanislaw Lem
Icarus XB-1 / Jindrich Polak
The Silent Star / Kurt Maetzig
Test Pilota Pirxa / Marek Piestrak
Solaris / Andrej Tarkovskij