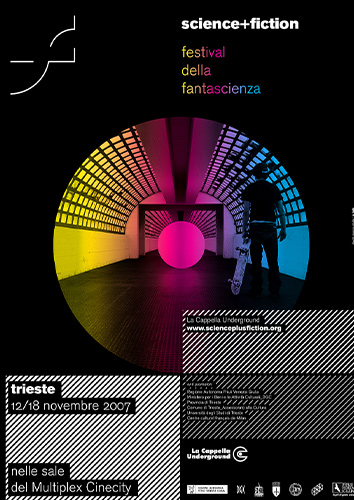 2007. Francia vs Unione Sovietica
Joe Dante, filmmaker and author of internationally successful films such as Gremlins (1982), is awarded the Urania d'Argento (below).
While the Voyage fantastique into French cinéma de genre goes on, Jean "Moebius" Giraud, the master of comics, is the protagonist in a crowded masterclass.
Marx Attacks!, a retrospective exhibition about Soviet Sci-Fi production, starts this year.
The board, led by Alfredo Castelli, gives the Asteroide award to the Spanish film Los Cronocrimenes, of Nacho Vigalondo.
The poster – An alien sphere, the Festival symbol, lights up in different areas of the city and it appears in the posters too.
Urania d'argento – Joe Dante, American filmmaker, author of Gremlins, wins the lifetime achievement award.
Asteroide – The Asteroide award for the best film taking part in the competition is given to the Spanish filmmaker Nacho Vigalondo for Los Cronocrimenes.
The award – The Asteroide is realized every year by a different artist : in 2007 it is designed by Marco Stulle and Andrea Milia and it is made of melted aluminum.
Giuria
Alfredo Castelli, Anaïs Emery, Fritz Herzog, Jean-Francois Rauger, Alla Verlotsky
Location
Multiplex Cinecity, Teatro Miela
Premio Asteroide
Los Cronocrimenes
by Nacho Vigalondo
Mélies d'argent Short
Absence
by Kevin Lecomte
Urania d'Argento
Los Cronocrimenes
by Joe Dante
The 4th Dimension / Tom Mattera + David Mazzoni
La Antena / Esteban Sapir
Black Sheep / Jonathan King
Blade Runner: The Final Cut / Ridley Scott
The Call of Cthulhu / Andrew Leman
Chrysalis / Julien Lelercq
Los Cronocrimenes / Nacho Vigalondo
Dr. Plonk / Rolf de Heer
Grindhouse / Quentin Tarantino + Robert Rodriguez
The Host / Joon-ho Bong
La Hora Fria / Elio Quiroga
Jadesoturi / Antti-Jussi Annila
Mushishi / Katsuhiro Otomo
Perfect Creature / Glenn Standring
Rec / Jaume Balagueró + Paco Plaza
In the Shadow of the Moon / David Sington
The Sword Bearer / Filipp Yankovsky
The Ugly Swans / Konstantin Lopushansky
Vexille / Fumihiko Sori
458mn / Jan Bitzer + Ilija Brunck + Tom Weber
Absence / Kevin Lecomte
Afterimage / Catalin Leescu
Blaxorcist / Edward King
Finkle's Odyssey / Barney Clay
Frank / Adam McAlavey
Guy's Guide To Zombies / Daniel Austin
Hydogg / Frank Pitussi
Les inhumains / Olivier Monot
Limoncello / Jorge Dorando + Luis Alejandro Berdejo + Borja Cobeaga
Lost Cargo / Pietre Engels + Efim Perlis
Moloch / Marcin Pazera
Moment de Gloire / Hendrik Moonen
The Reptile Day / Tom Hickmore
Torsia / Jaksa Boric
Y Que Cumplas Muchos Mas / David Alcalde
01-KML / Guglielmo Favilla + Alessandro Izzo
Aturan / Christian Brogi
Last Blood / Alessandro Izzo
Marc Random / Salvatore Allocca
Papilio 2017 / Filippo Arlotta
Resistanz / Maxi Dejoie
Syd / Tommaso Caroni
Urania d'argento a Joe Dante
Gremlins 2: the New Batch / Joe Dante
Innerspace / Joe Dante
Master of Horror: Homecoming / Joe Dante
Matinee / Joe Dante
The Second Civil War / Joe Dante
Small Soldiers / Joe Dante
Them! / Gordon Douglas
Chronopolis / Piotr Kamler
Cinemonstre / Enki Bilal
Le Cinquième Èlément / Luc Besson
La Constellation Jodorowsky / Louis Mouchet
Delicatessen / Marc Caro + Jean-Pierre Jeunet
Gandahar / René Laloux
I Maestri del Tempo / René Laloux
Moebius Redux: A Life in Pictures / Hasko Baumann
Il Pianeta Selvaggio / René Laloux
Aelita: Queen of Mars / Yakov Protazanov
Aerograd / Aleksandr Dovzhenko
Amphibian Man / Guennadi Kazanksky + Vladimir Chebotarev
Cosmic Voyage / Vasili Zhuravlev
A Dream Come True / Mikhail Karyukov + Otar Koberidze
The Dead Mountaineer Hotel / Grigori Kromanov
The Heavens Call / Mikhail Karzhukov + Aleksandr Kozyr
Interplanetary Revolution / Z. Komissarenko + U. Merkulov + N. Hodataevy
Kin-Dza-Dza / Georgi Daneliya
Planet of Storms / Pavel Klushantsev
Stalker / Andrei Tarkovsky
To the Stars by Hard Ways / Richard Viktorov
Zero City / Karen Shakhnazarov
Cannibal Holocaust / Ruggero Deodato
It Happened Here / Kevin Brownlow + Andrew Mollo
Metropolis / Fritz Lang
Slaughterhouse-Five / George Roy Hill