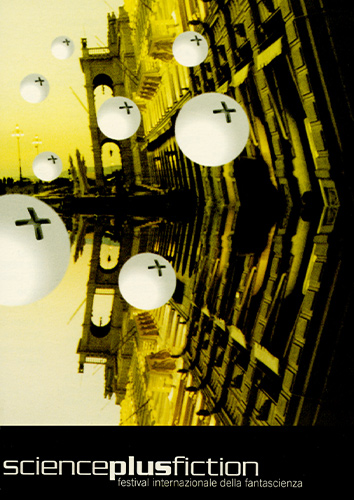 2003. New projects
This year marks the beginning of Brit Invaders!, a journey to British science-fiction cinema, a long term project whose first section, in this edition, goes through the British science-fiction classics from 1929 to 1956.
The section TV Sci-Fi completes the program with a meteor shower the BBC let slip between 1953 and 1981, such as the cult series Doctor Who.
In May, Mariano Equizzi shoots Evangelisti R.A.C.H.E., a production of Luca Liggio, La Cappella Underground and Iter Research. It borrows its name from Valerio Evangelisti, leading spokesperson of Italian science-fiction. The R.A.C.H.E (revenge) imagined in his texts is told in a future combat film style. This medium length film will be presented at the Festival in 2005.
Urania d'Argento 2003
Dario Argento
Battle Royale / Kinkij Fukasaku
Dead End / Jean-Baptiste Andrea, Fabrice Canepa
Earthbound / Federico Anastasi
Les Enfants de la Pluie / Philippe Leclerc
Life, the Universe and Douglas Adams / Rick Mueller
R.I.P. / Jan Doense
Robot Stories / Greg Pak
Space Off / Tino Franco
Sungnyangpali Sonyeoui Jaerim / Sun-Woo Jang
T.T. Sindrom / Dejan Zecevic
Nel 2000 Guerra o Pace? / William Cameron Menzies
Autopilot / Anthony Carpendale
The Bunker / Rob Green
Darklands / Julian Richards
Deathwatch / Michael Basset
Doctor Sleep / Nick Willing
Dog Soldiers / Neil Marshall
Geometry and Gravity / Tony Hill + Jan Kopinski
High Treason / Maurice Elvey
Luminal / Andrea Vecchiato
The Man Who Changed His Mind / Robert Stevenson
Octane / Marcus Adams
Once in a New Moon / Anthony Kimmins
Orange Girl / Mark Devenport, Mark Gwynn-Jones
Otherworld / Derek Hayes
Phasia / Barry Hale + Jane Mulchrone
A Postcard From Sutton-on-Sea / Stephen Friendship + Simon Withers
Revelation / Stuart Urban
Scratch the Itch / Stewart Collinson, Melanie Jordan, Andy Hewitt
Shaker / Laura Smith + Peter Shenton
The Tunnel / Maurice Elvey
L'Uomo dei Miracoli / Lhotar Mendes
Viaggio nell'Interspazio / Terence Fisher
Will / Caroline Locke + Su Ansell
X Contro il Centro Atomico / Leslie Normann
Premio Urania a Dario Argento
La Bambola / Mario Foglietti
Dario Argento: An Eye for Horror / Leon Ferguson
Halloween / John Carpenter
Non Aprite Quella Porta / Tobe Hooper
Non ho Sonno / Dario Argento
Opera / Dario Argento
La Porta sul Buio: Il Tram / Sirio Bernadotte (Dario Argento)
Profondo Rosso / Dario Argento
Reazione a Catena – Ecologia di un Delitto / Mario Bava
Repulsion / Roman Polanski
Suspiria / Dario Argento
Tenebre / Dario Argento
Testimone Oculare / Roberto Pariante
L'Uccello alle Piume di Cristallo / Dario Argento
Il Vicino di Casa / Luigi Cozzi
Zombi – Dawn of the Dead / George A. Romero
La Cosa da un Altro Mondo / Christian Nyby
L'Esperimento del Dottor K / Kurt Neumann
L'Invasione degli Ultracorpi / Don Siegel
Il Mostro della Laguna Nera / Jack Arnold
Il Pianeta Proibito / Fred M. Wilcox
Radiazioni BX Distruzione Uomo / Jack Arnold
Ultimatum alla Terra / Robert Wise
La Clessidra / Wojciech Has
The Damned / Joseph Losey
La Jetée / Chris Marker
Matango il Mostro / Ishirô Honda
Operazione Ganimede / Rainer Erler
Il Pianeta Selvaggio / René Laloux
I Racconti del Terrore / Roger Corman
Silent Running / Douglas Trumbull
Solaris / Andrej Tarkovskij
L'Ultimo Uomo sulla Terra / Ubaldo Ragona
The War Game / Peter Watkins
The Day of the Triffids / Ken Hannam
Doctor Who: the Brain of Morbius / Christopher Barry
Doctor Who: City of Death / Michael Hayes
Doctor Who: the Dalek Invasion of Earth / Richard Martin
Doctor Who: Day of the Daleks / Paul Bernard
Doctor Who: Earthshock / Peter Grimwade
Doctor Who: Spearhead from Space / Derek Martinus
Doctor Who: the Three Doctors / Lennie Mayle
The Hitchhiker's Guide to the Galaxy / Alan Bell
The Quatermass Experiment / Rudolph Cartier
The Stone Tape / Peter Sasdy
The Year of the Sex Olympics / Michael Elliott