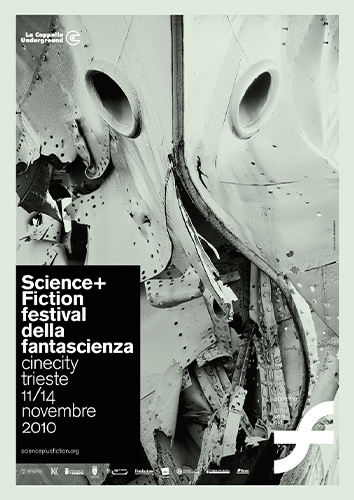 November 2010, 11th-14th. Ten candles for S+F
The 2010 edition, the tenth anniversary (the 2000 edition is considered the zero edition), introduces itself to the city though the deformed metal image of the prow of Elettra, the laboratory ship where Guglielmo Marconi developed his studies, that is today at the AREA Science Park in Padriciano, close to Trieste. Is it wreckage from the past or a cold vision of a monstrous future?
The retrospective exhibition Italiani nello spazio takes place and includes a tribute to Antonio Margheriti, alias Anthony M. Dawson. The famous film War of the Planets (I Diafanoidi vengono da Marte) is on the agenda.
Transfert, a German film appreciated by both critics and public, is the winner of the Neon category for the Asteroide award thanks to its poetry on human being and on his vanity sins.
Giurie
Asteroide
Lamberto Bava, Francois-Jacques Ossang, Mitja Rabar
Méliès d'Argent
Ruggero Deodato, Edoardo Margheriti, Daniel Ortolan
Location
Multiplex Cinecity, Teatro Miela
Premio Asteroide
Transfert
by Damir Lukacevic
Asteroide Menzione speciale
Norwegian Ninja
by Thomas Cappelen Malling
Méliès d'argent
Rare Exports: a Christmas Tale
by Jalmari Helander
Méliès Menzione speciale
Technotise
by Aleksa Gajic
Méliès d'argent Short
Daddy's Girl
by Helen Komini Olsen
Méliès Short Menzione
Teleportation
by Markus Dietrich
Premio Nocturno Nuove Visioni
Rammbock
by Marvin Kren
Premio del pubblico
Transfert
by Damir Lukacevic
Urania d'argento
George A. Romero
Premio alla carriera
Cargo / Ivan Engler
Cold Souls / Sophie Barthes
Dharma Guns / François-Jacques Ossang
Djinns / Hughes + Sandra Martin
Krokodyle / Stefano Bessoni
Mr. Nobody / Jaco Van Dormael
Norwegian Ninja / Cappelen Malling
Quam / Mario d'Anna
Rammbock / Marvin Kren
Rare Exports: A Christmas Tale / Jalmari Helander / Méliès d'Argent Winner
Red Nights / Julien Carbon + Laurent Courtiaud
Symbol / Hitoshi Matsumoto
Technotise – Edit i Ja / Aleksa Gajic
Transfer / Damir Lukacevic / Asteroid Award Winner
The Anachronism / Matthew Long
The Boy Who Wouldn't Kill / Linus de Paoli
Bunker / Paul Doucet
Cabine of the Dead / Vincent Templement
The Chronoscope / Andrew Legge
Cloud Catcher / Miha Knific
Daddy's Girl / Helen Komini Olsen / Méliès d'Argent Winner
Defoe / Ross Neil
Erase Love / Javier Ideami
Fard / David Alapont + Luis Briceño
Gear School – Plug and Play / Luis Calvo Llàcer + Ismael Ferrer Pacín
Hansel & Gretel / Goce Cvetanovski
MutantLand / Phil Tippett
Place to Stay / Jesse Jokela
Pokayoke / Mika Tervonen
Schizofredric / Andy Poyiadgi
St. Chistophorus: Roadkill / Gregor Erler
Teleportation / Markus Dietrich
La Terrible Malédiction / Sthéphane Papet
Tous les Hommes s'Appellent Robert / Marc-Henri Boulier
2+5: Missione Hydra / Pietro Francisci
I Criminali della Galassia / Antonio Margheriti
I Diafanoidi Vengono da Marte / Antonio Margheriti
La Morte Viene dallo Spazio / Paolo Heusch
Il Pianeta degli Uomini Spenti / Antonio Margheriti
Il Pianeta Errante / Antonio Margheriti
La Morte Viene dal Pianeta Aytin / Antonio Margheriti
Spacemen / Antonio Margheriti
Starcrash – Scontri Stellari Oltre la Terza Dimensione / Luigi Cozzi
Terrore nello Spazio / Mario Bava
TV Sci-Fi
Haven – Episodio 13: "Spiral" / Fred Gerber
Presagi (Sei Passi nel Giallo) / Lamberto Bava
The Walking Dead / Frank Darabont
Extra
Auto*Mat / Martin Marecek
No Impact Man / Laura Gabbert + Justin Schein
Who Killed the Electric Car? / Chris Paine