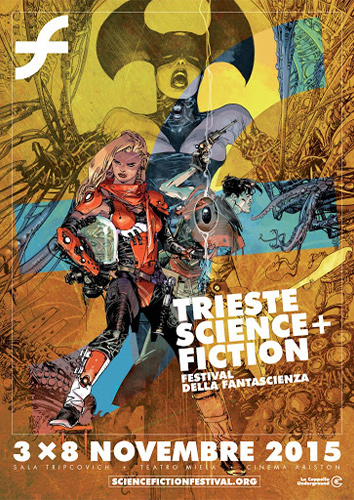 The fifteenth edition of the international science fiction festival "Trieste Science+Fiction", organized and promoted by La Cappella Underground, takes place in November 2015, 3rd-8th. It is a dedicated to the exploration of fantastic worlds, experimental languages and new technologies in the productions for cinema, TV, visual arts and show business.
According to tradition, cinema is the protagonist of the festival program – national and international previews of the best science fiction, fantasy and horror productions are shown on the screens.
The official selection presents two international competitions – independent filmmakers from all over the world compete for the Asteroide award for the best full length science fiction film; the Méliès d'argento award is the prize of the European competition for the best fantastic full length film and short.
The section Spazio Italia includes the best of the Italian production. The special events dedicated to science and literature with Incontri di Futurologia, in collaboration with the main scientific organizations of the area, and the delivering of the Urania d'Argento award – organized with the homonymous literary newspaper – to a master of fantastic genre are a must.
This year Trieste becomes the European capital of fantastic cinema, because of the EFFFF (European Fantastic Film Festival Federation) annual convention and the 19th Golden Méliès Ceremony, scheduled for the 6th of November. It is the ceremony for the delivering of the Méliès d'or award, of the European Fantastic Film Festival Federation, a network the Trieste Festival joined in 2005. The winning filmmaker is invited to the Festival to collect the statuette, an original creation inspired by the classic fantastic cinema of the beginning, "Le voyage dans la Lune". An exceptional meeting to celebrate the eminent success of the fifteenth edition of Trieste Science+Fiction.
Giurie
Asteroide
Joe R. Lansdale, Georges Delmonte, Silvio Sosio
Méliès d'Argent
Luigi Cozzi, Andrea Chimento, Rebecca De Pas
Méliès d'Or
Claudio Simonetti, Iris Martin-Peralta, Francisco Villa-Lobos
Poster artist
Mario Alberti
Location
Sala Tripcovich, Teatro Miela, Cinema Ariston
Premio Asteroide
Wyrmwood
by Kiah Roache-Turner
Méliès d'argent
Polder
by Samuel Schwarz, Julian M. Grunthal
Mélies d'argent Shorts
The Karman Line
by Oscar Sharp
Premio del pubblico
What We Do in the Shadows
by Taika Waititi, Jemaine Clement
Premio Wonderland
Nina Forever
by Ben & Chris Blaine
Premio Nocturno Nuove Visioni
Howl
by Paul Hyett
Méliès d'or
Goodnight Mommy
by Severin Fiala e Veronika Franz
Urania d'Argento
Bruce Sterling
Premio alla carriera
Andron – The Black Labyrinth / Francesco Cinquemani
Calculator / Dmitriy Grachev
Crumbs / Miguel Llansó
Dark Star HR Giger's World / Belinda Sallin
Deathgasm / Jason Lei Howden
Dio esiste e vive a Bruxelles / Jaco Van Dormael
Frankenstein / Bernard Rose
Howl / Paul Hyett
Idyll / Tomaž Gorkič
It Follows / David Robert Mitchell
Jackrabbit / Carleton Ranney
No Men Beyond This Point / Mark Sawers
Polder / Samuel Schwarz, Julian M. Grünthal
[REC]4 Apocalypse / Jaume Balagueró
Stung / Benni Diez
Summer Camp / Alberto Marini
The Survivalist / Stephen Fingleton
Turbo Kid / François Simard, Anouk Whissell, Yoann-Karl Whissell
We Are Still Here / Ted Geoghegan
What We Do In the Shadows / Taika Waititi, Jemaine Clement
The Whispering Star / Sion Sono
Wyrmwood / Kiah Roache-Turner
The Zero Theorem / Terry Gilliam
L'art du geste / Ivan Radkine
Bionic Girl / Stéphanie Cabdevila
Clones / Rafael Bolliger
The Fisherman / Alejandro Suárez Lozano
The Herd / Melanie Light
The Kármán Line / Oscar Sharp
Memories / Vincenzo Alfieri
Phoenix / Florian Frerichs
The Shaman / Marco Kalantari
Summer / Anton Outkine
Titan / Álvaro González
Zelos / Thoranna Sigurdardottir
Zero / David Victori
Another Frontier / André Cruz Shiraiwa
Goodnight Mommy / Veronika Franz + Severin Fiala
The Hallow / Corin Hardy
Index Zero / Lorenzo Sportiello
Liza, the Fox-Fairy / Károly Ujj Mészáros
Men & Chicken / Anders Thomas Jensen
Nina Forever / Ben Blaine, Chris Blaineis
This Time Away / Magali Barbé
Autumn Harvest / Fredrik S. Hana
A Blue Room / Tomasz Siwiński
Detector / Floris Kingma
Es War Finster und Merkwürdig Still / Mirella Brunold + Nina Calderone
Ghost Train / Lee Cronin
Graffiti / Lluis Quilez
Last Door South / Sacha Feiner
Loose Ends / Stéphane Everaert
La Maison de Poussière / Jean-Claude Rozec
Miami / Simão Cayatte
My Past Life / Sebastian Lindblad
The Nostalgist / Giacomo Cimini
The Salt of the Earth / Jonathan Desoindre
The Sinner / Gerlando Infuso
Sinnside / Miguel Ángel Font Bisier
The Stomach / Ben Steiner
Supervenus / Frédéric Doazan
Wind / Robert Löbel
Acid Space / Stefano Bertelli
Ananke / Claudio Romano
Bangland / Lorenzo Berghella
Monitor / Alessio Lauria
Muffe Il Film / Guillermo Giampietro
Strings / Alessio Vasarin, Sandro Tarter
Blood On Méliès' Moon / Luigi Cozzi
Spazio Corto
Cursor / Marco Castiglione
Deus in Machina / Nicola Piovesan
Encounter / Fabrizio Rinaldi
Ison / Maicol Borghetti
Le Streghe / Fabio Bressan
Profondo Rosso / Dario Argento
Space Kids
Mercano, el marciano / Juan Antin
O Menino e o Mundo – Il Bambino che scoprì il mondo / Alê Abreu
Future Environment
Into Eternity: a Film for the Future / Michael Madsen