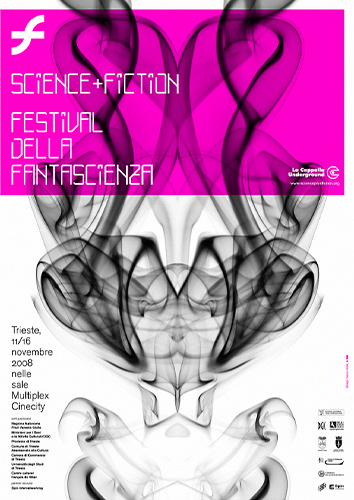 11-16 November 2008. Urania Award to Harryhausen
Science+Fiction pays homage to the 40th anniversary of Stanley Kubrick's masterpiece "2001: A Space Odyssey". While carrying on the project Voyage fantastique and presenting such films as Juan Antonio Bayona's "El Orfanato", the Festival awards the career award to Ray Harryhausen, master of the stop-motion craft, who talks to the audience via video conference from London.
The poster – A smoky alien has landed on the poster of S+F 2008.
Asteroid – "Tres Días" is awarded the Asteroid Award as best film in competition. The Award is handed to the much appreciated leading actress Mariana Cordero by the artist who crafted it.
In 2008 the Asteroid Award is created by Cosimo Fusco using Autoclaved aerated concrete (AAC).

Giurie
Asteroide
Lucius Shepard, Tommaso Pincio, Antonio Josè Navarro
Méliès d'Argent Short
Giovanni Mongini, Ugo Malaguti, Alessandro Pinto
Location
Multiplex Cinecity, Teatro Miela
Premio Asteroide
Tres dìas
by F. Javier Gutiérrez
Mélies d'argent Shorts
Kingz
by Benni Diez, Mainko Spahic
Urania d'Argento
Ray Harryhausen
Premio Urania
20-Seiki Shônen / Yukihiko Tsutsumi
Akumu Tantei 2 / Shinya Tsukamoto
Artefacts / Giles Daoust + Emmanuel Jespers
Boku no Kanojo wa Saibôgu / Jae-young Kwak
Carlston za Ognjenku / Uroš Stojanovic
Chemical Wedding / Julian Doyle
Chrysalis / Tony Baez Milan
Dark Floors / Pete Riski
The Dead Outside / Kerry Anne Mullaney
Death Race / Paul W.S. Anderson
Eden Log / Franck Vestiel
Encounters at the End of the World / Werner Herzog
Love story 2050 / Harry Baweja
Martyrs / Pascal Laugier
The Mutant Chronicles / Simon Hunter
Novaya Zemlya / Aleksandr Melnik
The Objective / Daniel Myrick
El Orfanato / Juan Antonio Bayona
La Possibilité d'une île / Michel Houellebecq
Prehod / Boris Palcic
Santos / Nicolás López
Sleep Dealer / Alex Rivera
Tres Dìas / F. Javier Gutiérrez / Asteroid Award Winner
6×8 – Non Tutto ciò che Vien Dopo è Progresso / Michele Bevilacqua
Anomalia / Michal Dominik K.
Arbeit fur Alle / Thomas Oberlies + Matthias Vogel
El Ataque of los Robots de Nebula – 5 / Txema Garcia Ibarra
Bad Blood Days / Luke Passmore
Cotton Candy / Aritz Moreno
Eel Girl / Paul Campion
The Facts in the Case of Mr. Hollow / Rodrigo Gudino + Vincent Marcone
Fun on Earth / Jesse Gordon
Kaukosaaren Kirous / CHRZU
Kingz / Benni Diez + Mainko Spahic / Best Shot Award
Lazarus Taxon / Denis Rovira
Monsier Selavy / Peter Volkart
Râ / Julien Sibre
Die Schneider Krankheit / Javier Chillon
Snip / Julien Zenier
SPEkTR / Thomas Pors
Stagman / Virginie Gourmel
Tørt og Kjølig / Kristoffer Joner
Vault / Fred Neuen
Afterville / Fabio Guaglione + Fabio Resinato
Apollo 54 / Giordano Giulivi
Cavie / Antonio + Marco Manetti
Urania d'argento a Ray Harryhousen
Il Settimo Viaggio di Sinbad / Nathan Juran
City of Lost Children / Jean-Pierre Jeunet + Marc Caro
Dante 01 / Marc Caro
Frontière(s) / Xavier Gens
Furia / Alexandre Aja
Les Mille Merveilles de l'Univers / Jean Michel Roux
Il Patto dei Lupi / Christophe Gans
Peut-être / Cédric Klapisch
Les Revenants / Robin Campillo
The Science of Sleep / Michel Gondry
Asteroids
The Damned / Joseph Losey
2001 – A Space Odyssey / Stanley Kubrick
The Day the Earth Stood Still / Robert Wise
Extra
Il Profumo della Signora in Nero / Francesco Barilli
Le Orme / Luigi Bazzoni
L'Urlo / Camillo Bazzoni
Barbarella / Roger Vadim
Don't Look Now / Nicolas Roeg
Puffball / Nicolas Roeg
A Crude Awakening: The Oil Crash / Basil Gelpke + Ray McCormack