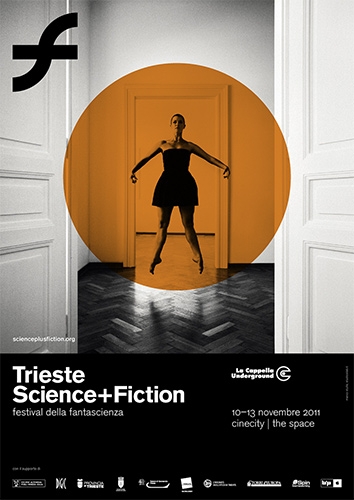 10 > 13 novembre 2011. Invasione di zombie
George A. Romero sbarca a Trieste per ritirare il premio alla carriera. E il Cinecity – il multisala che ospita il Festival dal 2000 – si riempie di zombie svegliatisi apposta per la grande occasione. Questa edizione – segnata anche da una lieve modifica nel nome, Trieste Science+Fiction – ospita un focus sul cinema spaziale made in Russia a 50 anni dal primo volo orbitale di Yuri Gagarin.
Il piacere di Science+Fiction per il meraviglioso, il fantastico, il surreale e tutto ciò che sta in bilico tra il vero e il percepito, si è concentrato nell'immagine del manifesto 2011: in primo piano una donna, una "ballerina" sulle punte sospesa nell'aria, quasi trascinata verso l'alto da una forza sconosciuta o da un invisibile filo legato a un burattinaio.
Giurie
Asteroide
Sergio "Alan D." Altieri, Jan Doense, Tullio Avoledo
Méliès d'Argent
Francesco Barilli, Roberto Nepoti, Leonardo Gandini
Location
Multiplex Cinecity, Teatro Miela
Premio Asteroide
Monsters
by Gareth Edwards
Méliès d'Argent
L'arrivo di Wang
by Manetti Bros.
Mélies d'argent Short
Sudd: Out of Erasers
by Erik Rosenlund
Premio del pubblico
Stake Land
by Jim Mickle
Urania d'Argento
George A. Romero
Premio alla carriera
L'Arrivo di Wang / Fratelli Manetti / Méliès d'Argent Winner
Cave of Forgotten Dreams / Werner Herzog
Extraterrestre / Nacho Vigalondo
Gantz / Shinsuke Sato
Gantz: Perfect Answer / Shinsuke Sato
Monsters / Gareth Edwards / Asteroid Award Winner
Nuclear Family / Kyle Rankin
The Prodigies / Antoine Charreyron
Sint / Dick Maas
Stake Land / Jim Mickle
The Show Must Go On / Nevio Marasovic
Target / Alexander Zeldovich
The Thing / Matthijs Jr. van Heijningen
Trollhunter / André Øvredal
L'Ultimo Terrestre / Gian Alfonso Pacinotti (Gipi)
Info Sheet / Thomas Pors
Le Jour des Poubelles / Sophie-Clémentine Dubois
Loop / Aritz Moreno
Mandragore / Fabrice Blin
Memorare / Dario Marzola
The Pack / Owen Tooth
Scusa Amore / Federico Ichi Scargiali
Skripka / Ludovico Piccolo
Souvenir / Mario Orman
Stereoscopy / Xacio Bano
Sudd: Out of Erasers / Erik Rosenlund / Méliès d'Argent Winner
There is Work for You in the Sky: See Mars! / Antonino Valvo
Transitus / Alceo Positano
The Gerber Syndrome / Maxì Dejoie
Morituris / Raffaele Picchio
Urania d'Argento a George A. Romero
Day of the Dead / George A. Romero
Diary of the Dead / George A. Romero
Land of the Dead / George A. Romero
Martin / George A. Romero
Night of the Living Dead / George A. Romero
Survival of the Dead / George A. Romero
Zombi / George A. Romero
Focus Russia: cinema dei cosmonauti
Dreaming of Space / Alexey Uchitel
First On The Moon / Alexey Fedorchenko
Paper Soldier / Aleksei German Jr.
Abdus Salam. The Dream of Symmetry / Diego Cenetiempo
Flow: for Love of Water / Irena Salina