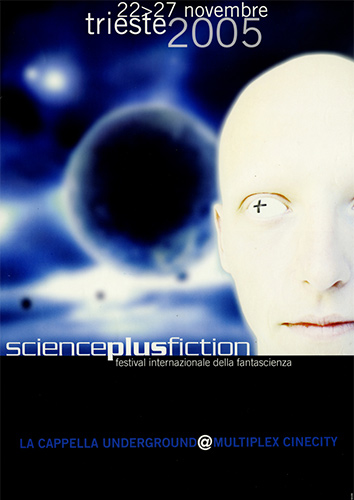 2005. S+F takes wing
Science+Fiction enters the European Fantastic Film Festivals Federation, created in the 90s to promote the production of this genre through a network of events that were often started taking the Festival in Trieste as a model.
Apart from the nine films competing for the Asteroide, there is a new section – European Fantastic Shorts – for the best European fantastic short film, awarded with the Méliès d'or.
On the agenda there is also a tribute to Jules Verne as it is the centenary of his death and the third and last chapter of Brit Invaders!, the retrospective exhibition dedicated to the British Sci-Fi production from the 60s to the contemporary authors. To come full circle, the homonymous volume, curated by I.Q. Hunter and Chiara Barbo, is published.
Jury
Jean-Pierre Dionnet, Roy Menarini, Kim Newman, Alena Shumakova
Location
Multiplex Cinecity, Teatro Miela
Asteroide Award
Puzzlehead
by James Bai
Mélies d'argent Shorts
Här Ligger Jag
by Neil Bell, Marq Bailey
Urania d'Argento alla carriera
Lamberto Bava
Premio alla carriera
Ainoa / Marco Kalantari
Beneath Still Waters / Brian Yuzna
The Birthday / Eugenio Mira
Brothers of the Head / Louis Pepe + Keith Fulton
Casshern / Kiriya Kazuaki
C.S.A.: Confederate State of America / Kevin Willmott
The District! / Áron Gauder
Firefly: Serenity / Joss Whedon
First On The Moon / Alexey Fedorchenko
Eli, Eli, Lema Sabachthani / Aoyama Shinji
G.O.R.A. / Ömer Faruk Sorak
Hellevator / Hiroki Yamaguchi
Mirrormask / Dave McKean
Nothing / Vincenzo Natali
Nuit Noire / Olivier Smolders
La Peau Blanche / Daniel Roby
The Piano Tuner of the Earthquake / Stephen Quay + Timothy Quay
Puzzlehead / James Bai / Asteroid Award Winner
Serenity / Joss Whedon
Steamboy / Katsuhiro Otomo
Vital / Shinya Tsukamoto
A 639 Baba / Andras Gyorgy Dési, Gabor Moray
A Message from Outer Space / Roel Mondelaers, Raf Reyntjens
El Gran Zambini / Igor Legarreta
Här Ligger Jag / Neil Bell
Hate Me / Kristoph Tassin
Invasion of the Planet Earth / Moritz Langer
Pauv'vieux / Grégory Valery
Scribble / Faisal A. Qureshi
El Soñador / Oskar Santos
Terra Incognita / Peter Volkart
Ver Weg / Jan Doense
Le Avventure Straordinarissime di Saturnino Farandola / Marcel Fabre, Luigi Maggi
A la Conquête du Pôle / Georges Melies
Deux Cent Milles Lieues sous les Mers / Georges Melies
La Diabolica Invenzione / Karel Zeman
Le Voyage à travers l'Impossible / Georges Melies
Le Voyage dans la Lune / Georges Melies
Ukradena Vzducholod / Karel Zeman
1984 / Michael Anderson
28 Giorni Dopo / Danny Boyle
Base Luna chiama Terra / Nathan Juran
Brazil / Terry Gilliam
Code 46 / Michael Winterbottom
…E la Terra Prese Fuoco / Val Guest
Lo sguardo che uccide / Eugene Lourié
Guida Galattica per Autostoppisti / Garth Jennings
Mysterious Island / Cy Endfield
Quatermass and the Pit / Roy Ward Baker
Time Bandits / Terry Gilliam
The Sorcerers / Michael Reeves
Unearthly Stranger / John Krish
L'Uomo che Cadde sulla Terra / Nicolas Roeg
Il Villaggio dei Dannati / Wolf Rilla