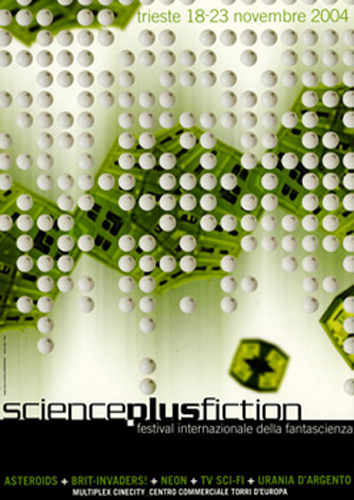 2004. Asteroide returns
The news in the Festival show schedule is the return of the Asteroide, the historical award of the show in the twenty-year-long cycle of the International Science-Fiction Film Festival. The award is given to Able Edwards, a Graham Robertson's film, for the best of the nine films taking part in the competition in the Neon section.
There are three special programs – a tribute to E.T.'s dad, Carlo Rambaldi; the masterclass with John Landis, the author of An American Werewolf in London and of Schlock, the winner in 1973,: the retrospective exhibition dedicated to Hammer Pictures, a British film production company.
Jury
Alan Jones, Javier G. Romero, Manlio Gomarasca
Location
Multiplex Cinecity, Teatro Miela
Premio Asteroide
Able Edwards
Graham Robertson
Urania d'argento
Jimmy Sangster
Premio alla carriera
Able Edwards / Graham Robertson
After the Apocalypse / Yasuaki Nakajima
American Astronaut / Cory McAbee
Atomik Circus / Didier Poiraud + Thierry Poiraud
Avatar / Jian Hong Kuo
Blueberry / Jan Kounen
Choking Hazard / Marek Dobes
Crash Test / Sam Voutas
I Delitti della Luna Piena / Paco Plaza
Donnie Darko / Richard Kelly
Immortel (ad Vitam) / Enki Bilal
Koi… Mil Gaya / Rakesh Roshan
London Voodoo / Robert Pratten
The Last Horror Movie / Julian Richards
Il Magico Natale di Rupert / Flavio Moretti
One Point 0 (1.0) / Jeff Renfroe + Marteinn Thorsson
The Park / Andrew Lau
Raumpatrouille Orion / Michael Braun + Theo Mezger
Red Cockroaches / Miguel Coyula
Tempus Fugit / Enric Folch
L'Astronave Atomica del Dottor Quatermass / Val Guest
Barbara, il Mostro di Londra / Roy Ward Baker
La Casa del Terrore / Seth Holt
Distruggete Frankestein / Terence Fisher
Dracula / Terence Fisher
Frankestein e il Mostro dall'Inferno / Terence Fisher
L'Implacabile Condanna / Terence Fisher
A Man on the Beach / Joseph Losey
La Maschera di Frankenstein / Terence Fisher
La Mummia / Terence Fisher
Quatermass and the Pit / Roy Ward Baker
Lo Sguardo che Uccide / Terence Fisher
Le Spose di Dracula / Terence Fisher
Una Figlia per il Diavolo / Peter Sykes
X Contro il Centro Atomico / Leslie Normann
Slok / John Landis
Un Lupo Mannaro Americano a Londra / John Landis
Alien / Ridley Scott
E.T. L'Extraterrestre / Steven Spielberg
Possession / Andrzej Zulawski