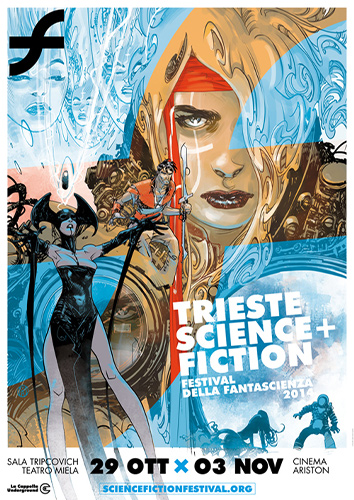 More and more firmly established in the city center, the Festival of the Science-Fiction welcomes renown artist Alejandro Jodorowsky, who is awarded the Silver Urania, and a crowd of enthusiastic fans fills up the Tripcovich Theater to attend his performance.
One of the prominent guests of the Festival is Sasha Grey, leading actress of "Open Window", directed by former Asteroid Award winner Nacho Vigalondo.
The Festival pays homage to Mario Bava: on the occasion of the century of his birth a selection of his works are screened and an exhibition at Rogers Station is organized. Michel Gondry's and Aleksei German's latest films are also shown, while "The Texas Chainsaw Massacre" is presented in Sci-fi Classix section. The Jury President is Enzo G. Castellari and his affability endears him to the audience.
Giurie
Asteroide
Enzo G. Castellari, Daniel Cohen, Tomaz Horvat
Méliès d'Argent
Lorenzo Bianchini, Leopoldo Santovincenzo, Lorenzo Von Lorch
Poster artist
Mario Alberti
Location
Sala Tripcovich, Teatro Miela, Cinema Ariston
Premio Asteroide
Time Lapse
by Bradley King
Asteroide / Menzione Speciale
Honeymoon
by Leigh Janiak
Méliès d'Argent
Index Zero
by Lorenzo Sportiello
Mélies d'argent Shorts
The Nostalgist
by Giacomo Cimini
Premio del pubblico
Earth to Echo
by Dave Green
Premio Nocturno Nuove Visioni
Honeymoon
by Leigh Janiak
Premio Wonderland
Coherence
by James Ward Bykrit
Urania d'Argento
Alejandro Jodorowsky
Premio alla carriera
Nuoc 2030 / Nghiem-Minh Nguyen-Vo
ABCs of Death / AA. VV.
Coherence / James Ward Byrkit
Earth to Echo / Dave Green
Extraterrestrial / The Vicious Brothers
Honeymoon / Leigh Janiak
The Last Days On Mars / Ruari Robinson
Nymph / Milan Todorovic
Open Windows / Nacho Vigalondo
Predestination / Michael Spierig + Peter Spierig
Reality / Quentin Dupieux
Predestination / Michael Spierig
Robot Overlords / Jon Wright
These Final Hours / Zak Hilditch
Time Lapse / Bradley King
Le streghe son tornate / Álex de la Iglesia
Bendito Machine V: Pull the Trigger / Jossie Malis
Een Verre Reis / Kurt Platvoet
Ghost Train / Lee Cronin
Home [Hogar, hogar] / Carlos Alonso Ojea
Kosmodrome / Youcef Mahmoudi
The Nostalgist / Giacomo Cimini
On/off / Thierry Lorenzi
The Trial / Philip Arnold + Mark Player
2047 Sights of Death / Alessandro Capone
Index Zero / Lorenzo Sportiello
Ultima chiamata / Enrico Cerasuolo
La zuppa del demonio / Davide Ferrario
Spazio Corto
Acronos / Maicol Borghetti
The Age of Rust / Francesco Aber + Alessandro Mattei
Cetacea / A. Eugen Bonta
The Escape / Alessandro De Vivo + Ivano Di Natale
Los Rosales / Daniel Ferreira
Through Your Lips / Federico Scargiali
Spazio Web
Blackout – The series / David Valolao
F*ck the Zombies / Daniele Barbiero
Sidera / Lorenzo Bianchini
Under – The Series / Ivan Silvestrini
Vera Bes / Francesco Mazza
Vittima degli eventi / Claudio Di Biagio + Luca Vecchi
The Texas Chainsaw Massacre / Tobe Hooper
Eventi speciali
Hard to be a God / Aleksei Guerman
Is the Man Who Is Tall Happy / Michel Gondry
Premio Urania a Alejandro Jodorowsky
La danza de la realidad / Alejandro Jodorowsky
Jodorowsky's Dune / Frank Pavich
Omaggio a Mario Bava
Cani arrabbiati / Mario Bava
La maschera del demonio / Mario Bava
Mario Bava: operazione paura / Gabriele Acerbo + Roberto Pisoni
Extra
Alejandro Jodorowaky
Space Kids
Incontri di Futurologia
Fuori sala
Cinematic Labyrinths
Grand Tour Oculus Rift
Notte degli Ultracorpi 3.0