Trieste Science+Fiction Festival, the most important science-fiction event in Italy, taking place in Trieste from October 29th to November 3rd this year, has revealed the poster of the 2020 edition:  an original drawing by rising stars Van Orton; among their clients, Marvel and Microsoft. The poster conveys the will and the pleasure to explore the meraviglie del possibile (the wonders of what is possible) through the image of an astronaut nestled in a colourful pop mosaic.
"Space science fiction is stylized creating shapes which intertwine and melt to produce a psychedelic image conjuring the atmosphere of big stained glass windows". This is how the Turin designers Van Orton describe their poster. The art of the twin brothers is strongly influenced by pop culture and a design inspired by the big stained glass windows in medieval churches, evolving through symmetrical graftings and glowing lines.
Van Orton's first work reinterpreted the icons of the cult movies from the '80s and quickly gained visibility and the attention of important brands like Marvel, Microsoft, Armani, Bmw and artists like Pearl Jam.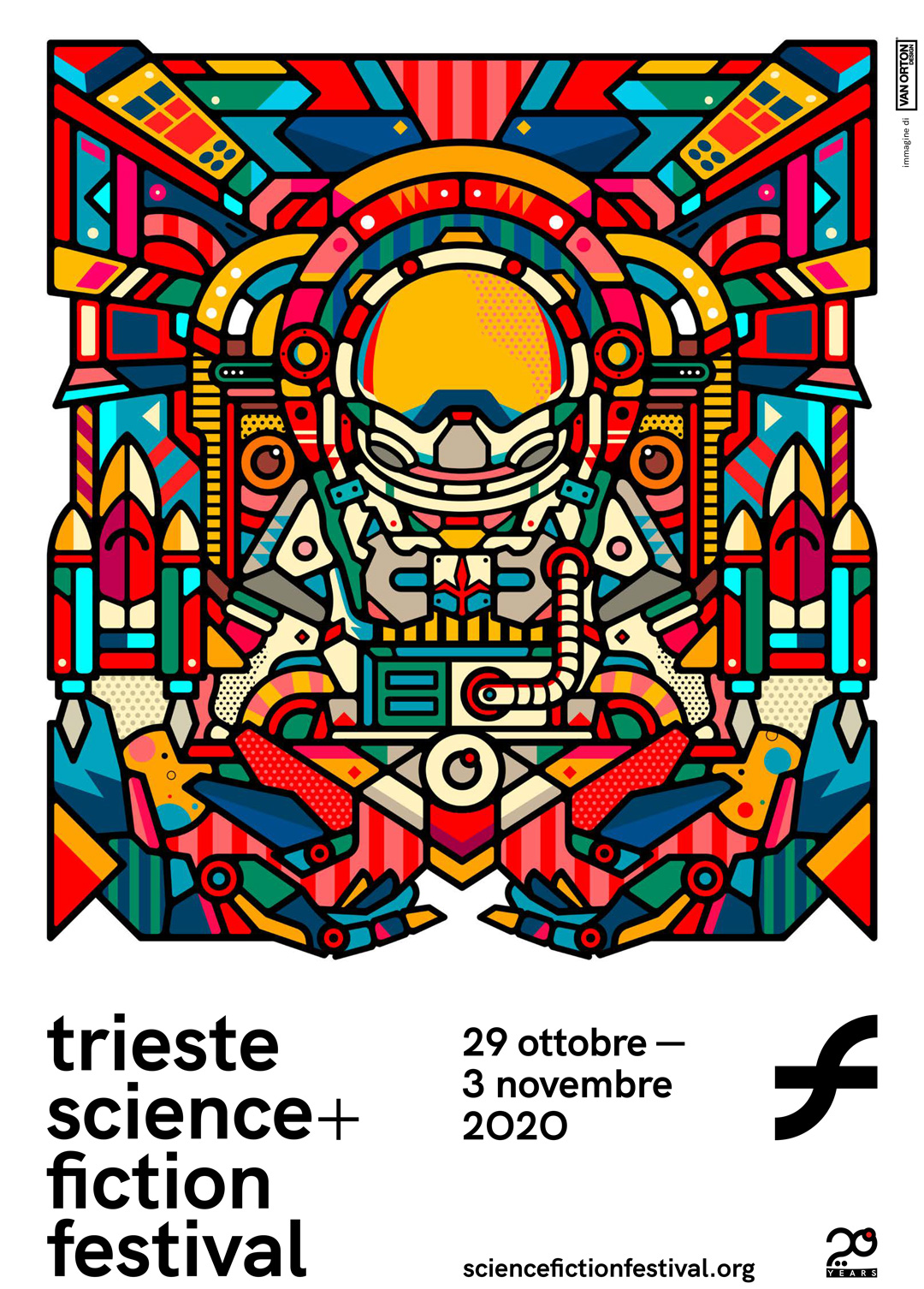 TRIESTE SCIENCE+FICTION FESTIVAL CELEBRATES ITS FIRST 20 YEARS

The science-fiction festival is preparing a special edition, both live and online, to celebrate its twentieth anniversary. The format of the 20th edition of the most important science fiction festival in Italy will be completely renewed, featuring an online film selection, a live programme taking place in Trieste (and elsewhere) and a number of special events.
"Our greatest hope is to be able to celebrate our twentieth anniversary with our audience…" – says Daniele Terzoli, the festival's director – "
"…because the collective experience of movie watching is essential to the Trieste Science+Fiction Festival. Our main venue for years has been a theatre with nearly 1000 seats and it's easy to understand how important is the audience participation, let alone the emotion to hear them all shouting "Fotonic Rays! Together before the screening. But right now it is as important  for us to organize a festival where our audience, our guests and our partners can feel safe, and that's what we are working at this year."
The Trieste festival is, therefore, preparing for a different setting, trying to develop a programme as flexible as possible, considering the changes and innovations necessary to reflect the new requirements of public space.