A.I. – Intelligenza artificiale
Steven Spielberg
USA, UK 2001, 146'
David è il primo mecha progettato per essere capace di amare. Una coppia, il cui figlio Martin è in stato di ibernazione per una rara malattia, "adotta" David per aiutarli a superare il lutto. Tutto sembra andare per il meglio, ma quando viene trovata una cura per Martin, la convivenza tra i due "fratelli" si rivela complicata, e David è costretto ad allontanarsi dalla madre che è stato programmato ad amare. David dovrà farsi strada nel mondo assieme all'orsacchiotto-robot Teddy, sfuggendo alle Fiere della Carne, raduni dove vengono distrutti i mecha in nome della purezza della vita umana. Con l'aiuto inaspettato di Gigolò Joe, un robot progettato per il piacere femminile, David inizia il suo percorso per diventare umano.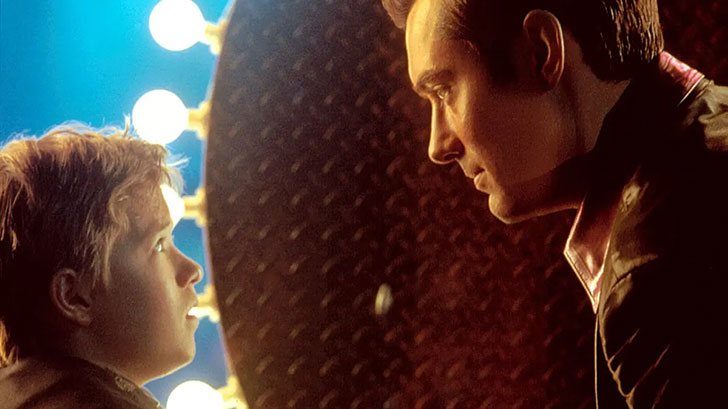 More prescient than ever since its first release, Steven Spielberg's take on the pet project bequeathed to him by Stanley Kubrick, is a fascinating, rich and strange epic adventure. A highly advanced robotic boy longs to become "real" so he can regain the love of his human mother in this dazzling delight. Introduced by Linda Ruth Williams, Professor and Head of Film and Television at the University of Exeter, UK, whose latest book 'Steven Spielberg's Children' concerns the director's use of child actors, representations of children and childhood in his work. A Q&A discussion will follow the screening.
Sceneggiatura_Screenplay
Steven Spielberg
Fotografia_Cinematography
Janusz Kaminski
Montaggio_Editing
Michael Kahn
Suono_Sound
Gary Rydstrom
Musica_Music
John Williams
Effetti speciali_Special Effects
Michael Lantieri
Interpreti_Cast
Hayley Joel Osment,
Jude Law,
Frances O'Connor,
Brendan Gleeson
Produttori_Producers
Kathleen Kennedy,
Steven Spielberg,
Bonnie Curtis
Produzione_Production
Amblin,
Stanley Kubrick Production
Distribuzione internazionale
_International Distribution
Warner Bros