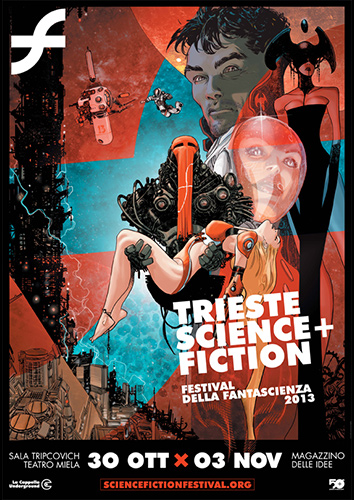 The new official poster image, many-colored and pop, is realized by Mario Alberti, a cartoonist and illustrator from Trieste.
It is an invitation to plunge into the imaginary and fantastic worlds of projections for five days in a row full of previews. The event, as usual, is dedicated to science fiction, but there are sporadic intrusions of fantasy and horror films.
The international competition for the Asteroide award (realized this year too by an artist from the area close to Trieste – Michele Spanghero is its author for this edition) makes by now a permanent match with the European competition for the Méliès d'Argento award for the best fantastic full length films and shorts, organized in collaboration with the European Fantastic Film Festivals Federation.
Spazio Italia presents the national productions and this year it paves the way to the lifetime achievement award Urania d'Argento, given to the filmmaker Gabriele Salvatores, who, in cooperation with FVG Film Commission, shot in Trieste his full length film The Invisible Boy (Il ragazzo invisibile), a fantasy bildungsroman. The Incontri di Futurologia, talks between science and science fiction, complete the show schedule on a multidisciplinary level. The invasion continues.
Giurie
Asteroide
Sergio Stivaletti, Zaihirat Banu, Phil Hardy
Méliès d'Argent
Marco Cacioppo, Fabrizio Rizzolo, Cristina Sain
Poster artist
Mario Alberti
Location
Sala Tripcovich, Teatro Miela, Cinema Ariston
Premio Asteroide
Europa Report
by Sebastian Cordero
Migliori Effetti Speciali
Big Ass Spider!
by Mike Mendez
Méliès d'Argent
The Strange Color of your Body Tears
by Hélène Cattet, Bruno Forzani
Méliès d'Argent Short
Happy B-Day
by Holger B. Frick
Premio del pubblico
Robot & Frank
by Jake Schreier
Urania d'Argento
Gabriele Salvatores
Premio alla carriera
Big Ass Spider! by Mike Mendez
Byzantium by Neil Jordan
The Colony by Jeff Renfroe
The Desert by Christoph Behl
Europa Report by Sebastiàn Cordero
Frankenstein's Army by Richard Raaphorst
Haunter by Vincenzo Natali
Painless by Juan Carlos Medina
Real by Kiyoshi Kurosawa, Sachiko Tanaka
The Returned by Manuel Carballo
Rio 2096 by Luiz Bolognesi
Robot & Frank by Jake Schreier
The Station by Marvin Kren
The Strange Color of your Body Tears by Hélène Cattet, Bruno Forzani
Upstream Color by Shane Carruth
113 Degree / Sabrina Doyle
Anima / Scott Mannion
Alien Repair Guy / Alexander Somma + Øystein Moe
Bio-Cop / Steven Kostanski
Case Rabbit / Joonas Makkonen
Dead Blood / Angelo Licata
Dr Awkward / Daniele Auber
Far From Eden / Carlos Amaral
Happy B-Day / Holger B. Frick
Hibernation / Jon Mikel Caballero
Perfect Drug / Toon Aerts
Robota / David Braun, Victor Sala
Sequence / Carles Torrens
Shellshocked / Dominic Brunt
Spacewrecked / Kalle Doniselli Gulbrandsen
Still Waiting For You by/ Clément Rière
Sweet Rabbit / Camiel Schouwenaar
12.12.12 by Massimo Morini
Across the River by Lorenzo Bianchini
Dark Resurrection Vol.0 by Angelo Licata
Back in Dark vol.0 by Riccardo Antonino
Maksimovič. La storia di Bruno Pontecorvo by Diego Cenetiempo
The Outsider – Il Cinema di Antonio Margheriti by Edoardo Margheriti
Space Metropoliz by Fabrizio Boni, Giorgio de Finis
All'amore mio by Mario Orman
Simple Song To by Damiano Tommasi
Eu-Daymonia – Stay in the happynet by Rita Rocca
Gallow Songs by Stefano Bessoni
Life.Love.Regret. by Federico Scargiali
Milo by Simon Pietro De Domenico
Tender is the Flesh by Marco Cacioppo
Report 51 by Alessio Liguori
The Man who Fell to Earth by Nicolas Roeg
Urania d'argento a Gabriele Salvatores
Sogno di una notte d'estate by Gabriele Salvatores
Nirvana by Gabriele Salvatores
Extra
Revenge of the Electric Car by Chris Paine