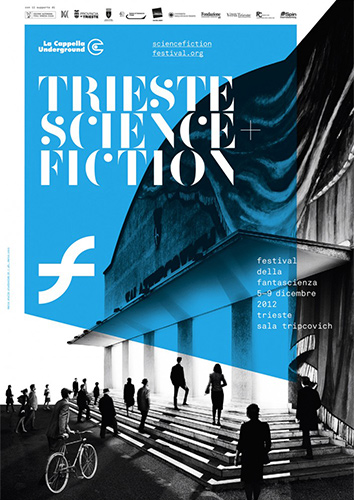 December 2012, 5th-9th. New screens
La Cappella Underground takes the Festival back to the hearth of the city, in Sala Tripcovich, close to the newborn Casa del Cinema.
The Urania d'Argento award is given to the great cartoonist Alfredo Castelli, Martin Mystère's author and guest of honor at the exhibition L'Audace Bonelli at Salone degli Incanti – former Pescheria (fishmarket).
Giurie
Asteroide
Pierre Bordage, Silvia Casalino, Paul Hyett
Méliès d'Argent
Andrea De Candido, Gianluca Novel, Paolo Zelati
Location
Sala Tripcovich, Teatro Miela, Cinema Ariston
Premio Asteroide
Errors of Human Body
by Eron Sheean
Méliès d'Argent
Grabbers
by John Wright
Mélies d'argent Shorts
Employé du Mois
by Olivier Beguin
Premio del pubblico
Cockneys vs Zombies
by Matthias Hoene
Urania d'Argento
Alfredo Castelli
Premio alla carriera
[REC]3 Genesis / Paco Plaza / Méliès
Antiviral / Brandon Cronenberg / Asteroide
Baikonur / Veit Helmer / Méliès
The Butterfly Room Jonathan Zarantonello
Cockneys vs Zombies / Matthias Hoene / Méliès / winner
The Divide / Xavier Gens / Asteroide
Doomsday Book / K. Jee-woon, Y. Pil-sung
Errors of Human Body / Eron Sheean / Asteroid / Winner
The Fourth Dimension / H. Korine, A. Fedorchenko
Grabbers / John Wright / Audience Award
Holy Motors / Leos Carax
John Dies at the End Don Coscarelli
Kiss of the Damned / Xan Cassavetes / Asteroide
Looper / Rian Johnson
Resolution J. Benson, A. S. Moorhead / Asteroide
Alchemy and Other Imperfections / Zachary Rothman
La Apuesta de Pascal / David Galán Galindo
Creature From the Back Lagoon / Federico Scargiali
Eat / Moritz Krämer
Efimera / Diego Modino
Employé du Mois / Olivier Beguin / Winner Méliès d'Argent
The Gate / Matt Westrup
Hambre / Mario De La Torre
L'Harmonie des Sphères / Guillaume Floret
Lost Memories / Francoise Ferracci
Nostalgic Z / Carl Bouteiller
Sleepworking / Gavin Williams
Tears of Steel / Ian Hubert
The Technician / Luca Cerlini
La Leggenda di Kaspar Hauser / Davide Manuli
Mia / Fulvio Ottaviano
No Gravity / Silvia Casalino
Pandemia / Lucio Fiorentino