Trieste Science+Fiction Festival, the most important science fiction event in Italy, a showcase for the wonders of possible worlds, screening both online and live in Trieste from October 27 to November 3, 2021, reveals the 21st edition official poster: an original drawing by Italian talent Alessandro Pautasso, aka Kaneda, who gained international recognition for his work, among others, for the New York Times, Disney, NBA, Warner Bros, Sony, Universal and Greenpeace.
The poster represents the beginnings of science fiction cinema through the wonders of space
travel and the future's great unknown: a colourful gaze full of amazement, provoking wonder and
imagination.
"I wanted to represent science fiction through the eyes of a child facing the sci-fi
classics – spaceships, space travel, the great unknown – for the first time."
Kaneda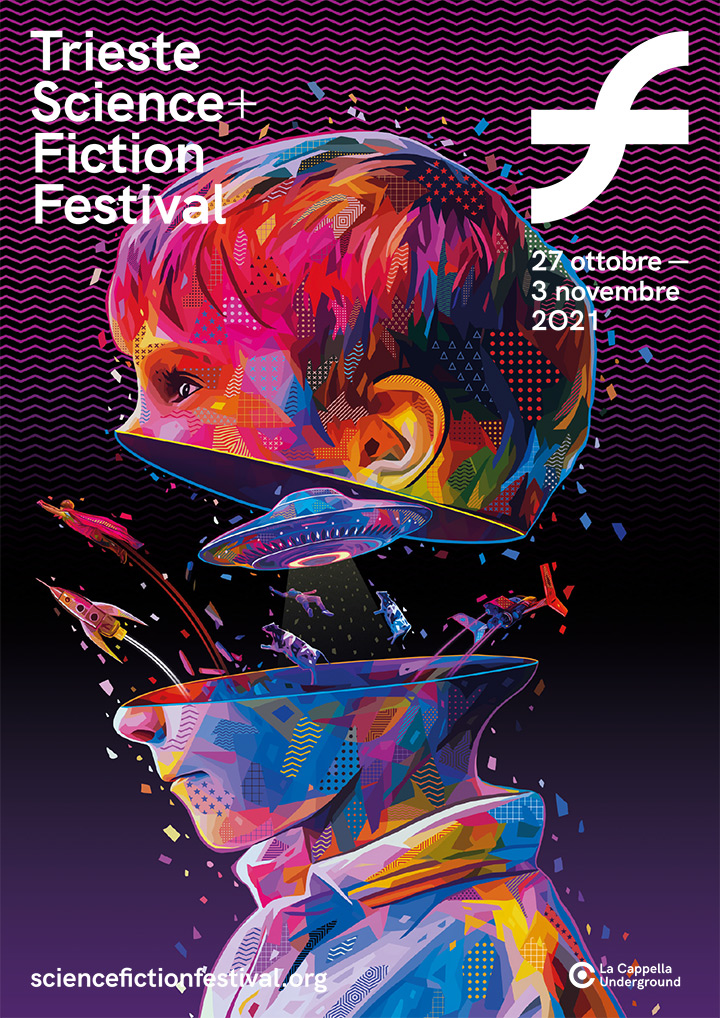 Alessandro Kaneda Pautasso is a graphic artist from Turin whose style features powerful neon
colours and abstract geometrical shapes. Born in 1982, after falling in love with Alan Aldridge's
Beatles illustrations he starts drawing every day. Attracted by visual art, he starts working as a
graphic designer and illustrator while studying digital art. Kaneda's work has been published in high-
profile international newspapers and magazines: the New York Times, the Washington Post, the
Los Angeles Times, the Seattle Times and Wired UK. He has produced artistic work for Adobe,
NBA TV, Juventus FC, Adidas China, Sunglass Hut, Warner Bros Italy, Remy Martin,
Futurebrand Paris, Lowe China, Sony Music Italy, Universal Records and Greenpeace and
created key-arts and cd and book covers, including many for Disney Books and Mika's Songbook
vol. 1 album cover.