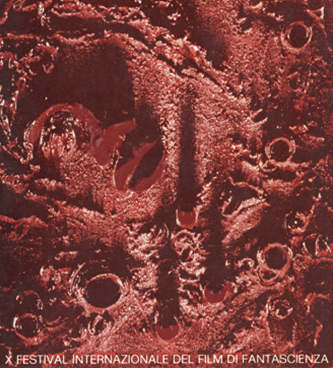 Spaceships and other crazy contraptions.
The silent run of the space vehicle "Valley Forge" travels over Silent Running, the winning film directed by Douglas Trumbull, who was awarded the Academy Award for the special effects in 2001: A Space Odyssey. Incredible optical tricks and amazing scenic designs support a current theme concerning the relation between man (the protagonist, a botanist), nature (forests that need to be saved), contraptions (the robots) and himself.
The devilish retrospective exhibition Il diavolo e i suoi accoliti: maghi e stregoni starts with Méliès (The Merry Frolics of Satan).
Jury: Luigi Chiarini, John Brunner, Gordon Hitchens, Ado Kyrou, Kurt Steiner
Asteroide d'oro
Silent Running
Douglas Trumbull
Asteroide d'argento
Dominique Erlanger
La seuil du vide
Asteroide d'argento
Mitia Nicolaiev
Shang s kryshi
Sigillo d'oro città di Trieste
Het laatste oordel
Guido Hendericx
Beware! The Blob / Larry Hagman
The Brotherhood of Satan / Bernard McEveety
Distruggete DC 59, da base spaziale a Hong Kong / Hajime Satù
Doomwatch: i mostri del 2001 / Peter Sasdy
Il potere di Satana / Bert I. Gordon
Przekladaniec / Andrzej Wajda
Le seuil du vide / Jean-Francois Davy
Shag s kryshi / Radomir Vasilevsky
Silent running / Douglas Trumbull
Les soleils de líIle de Paques / Pierre Kast
La terrificante notte del demonio / Jean Brismèe