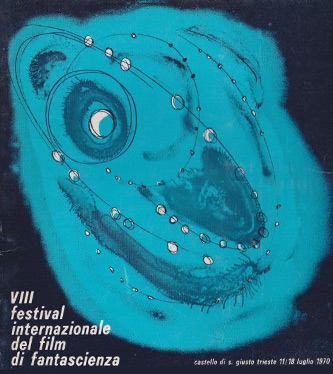 Monsters, gladiators and erotic science-fiction.
This year the board awards its prize to the Swedish film The Gladiators, by Peter Watkins. Gappa, a Japanese film directed by Haruyasu Noguchi, takes part in the competition too. It is about Gappa, a giant baby-monster that was kidnapped, and his parents who desperately look for him all around Japan, causing disasters and destroying Tokyo.
In this Festival edition, regardless of censorship, Zeta One, a British film directed by Michael Cort, opens the gateway to erotic science-fiction genre.
Giuria: Guido Piovene, Brian Aldiss, André Labarthe, Lajos Matos, George Wallach
Astronave d'oro
Gladiatorerna
Peter Watkins
Asteroide d'argento
Terence Stamp
per The Mind of Mr. Soames
Menzione speciale
Ruusunjen aika
Risto Jarva
Sigillo d'oro città di Trieste
Arena
Judit Vas
The Mind of Mr. Soames / Alan Cooke
Chariots of the Gods / Harald Reinl
Equinox / Jack Woods
Flying Phantom Ship / Hiroshi Ikeda
Gappa, the Triphibian Monster / Haruyasu Noguchi
The Gladiators / Peter Watkins
The Monitors / Jack Shea
The Outer Limits [TV] S2E5: Demon with a Glass Hand / Byron Haskin
Scream and Scream Again / Gordon Hessler
Zeta One / Michael Cort