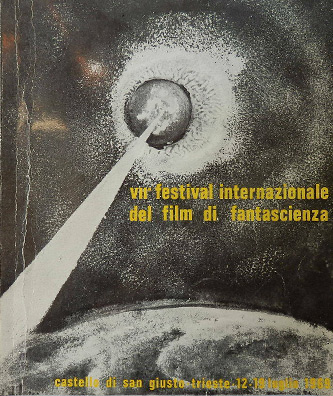 12-19 July 1969. The First Men on the Moon.
On the 16th of July, during the 7th edition of the Festival, Apollo 11 takes off, taking for the first time a man to the Moon. The leaflet of the Fantastic Art Exhibition, organized in cooperation with Sindacato Regionale Artisti Pittori Scultori e Incisori of Trieste, evokes the first Moon landing.
In the magazine "Oltre il Cielo – Missili e Razzi" special edition about the following Apollo 12 mission (n. 153, nov-dec 1969), there is a section on the International Science Fiction Festival in Trieste. During this edition of the Festival one of the side events is a retrospective exhibition on Roger Corman, who was awarded the Astronave d'argento (Silver Spaceship) in 1963.
Giuria: Mario Soldati, James Blish, Jean-Louis Comolli, Roger Corman, Zelimir Matko
Astronave d'oro
Le dernier Homme
Charles Bitsch
Sigillo d'oro città di Trieste
Cosmis Zoom
Eva Szasz
Menzione speciale
Cosmic aika
Risto Jarva
Premio speciale della giuria
Why Man Creates
Saul Bass
The Body Stealers / Gerry Levy
Le dernier homme / Charles L. Bitsch
Destroy All Monsters / Ishirō Honda
Mr. Freedom / William Klein
Tu imagines Robinson / Jean-Daniel Pollet
La poupée rouge / Francis Leroi
La princesse vous demande / Jean Delire
Sem shagov za gorizont / Felix Sobolev
A Time of Roses / Arto Tuominen, Ritva Vepsa, Tarja Markus
Tunnel Under the World / Luigi Cozzi
Windows of Time / Tamas Fejèr
The Illustrated Man / Jack Smight