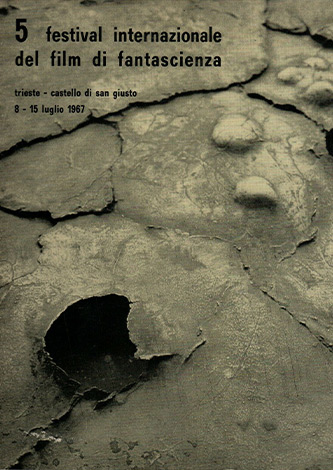 8-15 July 1967. Into the space.
Many events take place during the fifth edition of the Festival. The Esposizione internazionale Segni nello Spazio, dedicated to visual and concrete poetry, takes place in Castle of San Giusto. The International Art Exhibition L'uomo e lo spazio is held in Palazzo Costanzi, while the Humor graphic exhibition takes place in Circolo della Cultura e delle Arti and a tribute to Spatialism, Omaggio allo Spazialismo, is held in Sala Comunale d'Arte.
Fontana's cuts are the Festival image for this year.
At the Festival the "fanzines", amateur magazines for fans, make their appearance. They are so successful that in 1968, during the Festival, an international fanzines exhibition – I giovani e la fantascienza – curated by Gianfranco Battisti and Fabio Pegan, takes place in Circolo della Stampa of Trieste.
Jury: Frederick Pohl, Mario Nordio, Valery Petrov, Dilys Powell, Robert Van Laer
Sigillo d'oro città di Trieste
The Machine Stops
Philip Saville
Sigillo d'argento città di Trieste
Muha
Aleksander Marks e Vladimir Jutrisa
Astronave d'argento
What on Earth
Les Drew e Kaj Pindal
Anticipation [episode of "The Oldest Profession"] / Jean-Luc Godard
Night of the Big Heat / Terence Fisher
Late August at the Hotel Ozone / Jan Schmidt
Out of the Unknown [TV] S2E1: The Machine Stops / Peter Hammond
The Night Caller / John Gilling
The Deadly Bees / Freddie Francis
A Dog in Space / Antonio del Amo, Antonio Román
The Seventh Continent / Dusan Vukotic
The War Game / Peter Watkins