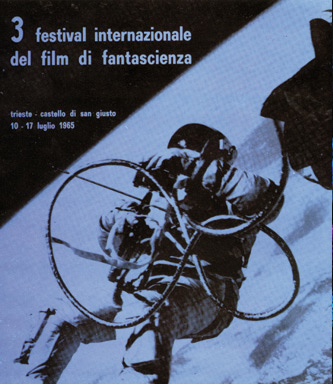 10-17 July 1965. Festival number 3.
The opening film of the third edition of the Festival is Frankenstein Meets the Space Monster of Robert Gaffney, one of Stanley Kubrick's collaborators. Alphaville of Jean-Luc Godard (France) gets the Asteroide award. A heterogeneous retrospective exhibition entitled Cinema e Utopia takes place in the Auditorium.
During the breaks between one film and the other, the yard of the Castle of San Giusto is filled with electronic music, according to the avant-garde plans of the NPS Group.
Azienda Autonoma di Soggiorno e Turismo, in cooperation with Circolo della Cultura e delle Arti di Trieste, organizes, among the Festival sidelines, the exhibition Arte cinetica, which takes place in the new exhibition room in Palazzo Costanzi. Thanks to Gillo Dorfles, all the twelve "operators" involved – such as Getullo Alviani, Enzo Mari, Manfredo Massironi, and Bruno Munari – are asked to design an "object" expressly for the exhibition. There are also two stroboscope image generators, designed by the young MID group of Milan.
Jury: Gene Moskowitz, Devendra Kumar, Otto Bear, Sandro Sandrelli, Robert Van Lear
Astronave d'oro
Alphaville
Jean-Luch Godard
Sigillo d'oro città di Trieste
Invasione
Camillo Bazzoni