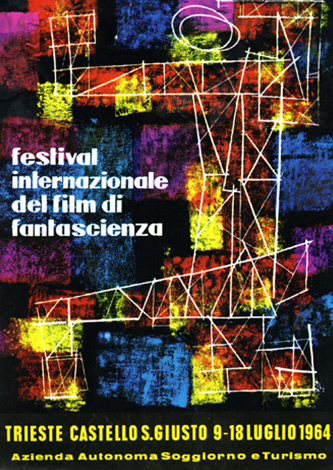 "The future has already started in Trieste"
9-18 July 1964.
During the second edition of the International Science Fiction Film Festival in Trieste (July 9th – 18th), a documentary is filmed by Italo Soncini. It will be played the following year at San Giusto under the title of I giorni dei mostri e delle astronavi.
The Damned by Joseph Losey (UK) is awarded the Asteroide d'oro.
An exhibition called Ieri fantascienza, oggi realtà, on the initiative of the United States Information Service (USIS), takes place in the Castle guard-house room. Among other pearls, an example of "Telstar", the first series of artificial satellites employed in telecommunication (e.g., for live TV), is displayed.
An exhibition called Arte Fantastica takes place in the Armory. It includes works of many artists, such as Dalì, Mirò, Ernst, Magritte and Crippa.
Jury: Stelio Rosolini, Guido Fink, Libero Mazzi, José M. Podestà, Sam'l Steinman
Astronave d'oro
The Damned
Joseph Losey
Sigillo d'oro città di Trieste
Popletema Planeta
Pavel Prochazha
Un soir… par hasard / Ivan Govar
Atragon / Ishirô Honda
Base Luna chiama Terra / Nathan Juran
Clown Ferdinand and the Rocket / Jindrich Polák
Hallucination / Joseph Losey
Matango il mostro / Ishirô Honda
Sojoux 111 Terrore su Venere / Kurt Maetzig
S.O.S. naufragio nello spazio / Byron Haskin
Steps to the Moon / Ion Popescu-Gopo
Viaggiatori del tempo / Ib Melchior