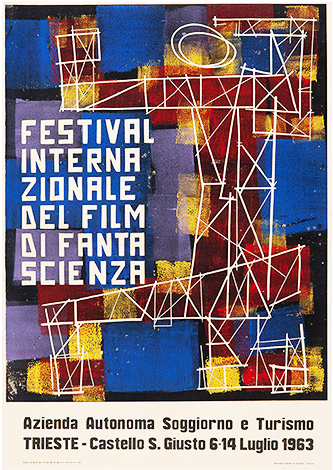 "The future starts tonight in Castle of San Giusto" and "the Moon hides not to darken the cinema stars"
("Il Piccolo sera", 6 July 1963)
6-11 July 1963.
A lunar eclipse witnesses the first International Science Fiction Film Festival, whose international board of excellence includes: Kingsley Amin, English writer ; Gene Moskovitz, correspondent at "Variety"; Jacques Bergier , director of "Planète"; Umberto Eco, semiologist and correspondent at "Corriere della Sera"; Pierre Kast, French director; Duilio Magris, president of Azienda di Soggiorno e Turismo, in charge of the organization of this event; Gastone Schiavotto, the Festival director.
Both the films Ikarie XB 1 of Jindřich Polák (Czech Republic) and La Jetée of Chris Marker (France) are awarded the Astronave d'oro (Golden Spacecraft), realized by Marcello Mascherini, a sculptor from Trieste.
Later the prize changes its name into Asteroide d'oro (Golden Asteroid) and Nino Perizi takes charge of its realization.
At the Festival in 1963 X: The Man with the X-Ray Eyes, a Roger Corman's film, has its world premiere in Trieste and it is awarded the Astronave d'argento (Silver Spacecraft). James H. Nicholson (Jack's father), the film producer, co-founder of American International Pictures (AIP) in the U.S., takes part in the event.
Jury: Jacques Bergier, Kingsley Amis, Pierre Kast, Umberto Eco, Luigi Berto
Astronave d'oro
Ikarie XB-1
Indrik Polack
Astronave d'oro
La jetée
Chris Marker
Sigillo d'oro città di Trieste
Kiberneticka Babicka
Jiri Trnka
Astronave d'argento
X: The Man with the X-ray Eyes
Roger Corman
Attack of the Puppet People / Bert I. Gordon
Un Amour de Poche / Pierre Kast
Ikarie XB 1 / Jindrich Polak
La Jetée / Chris Marker
Journey to the Stars / John D. Wilson
Muz z prvního století / Oldrich Lipský
L'uomo anfibio / Guennadi Kazanksky, Vladimir Chebotarev
L'uomo dagli occhi a raggi X / Roger Corman