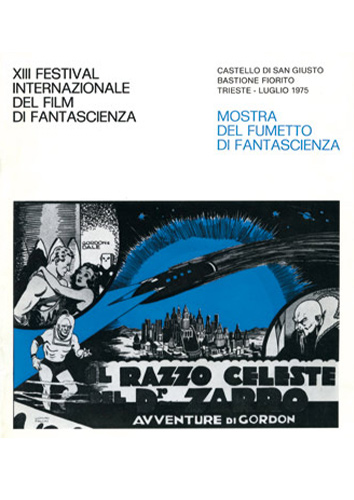 1975. Fantascienza disegnata
Un esercito di formiche intelligenti, dopo una dura battaglia con l'uomo, ottiene la supremazia sulla Terra, avviando per il pianeta una nuova fase: Phase IV di Saul Bass conquista, col suo porsi alla frontiera tra scienza e fantasia, la giuria del Festival, guidata quest'anno dallo scrittore Harry Harrison.
La retrospettiva è riservata a Jack Arnold con una selezione di film a cura de La Cappella Underground.
Per la prima volta il Festival apre le porte ai comics. Ed è un successo: al Bastione Fiorito del Castello di San Giusto la Mostra del Fumetto di Fantascienza offre un ampio quadro del fenomeno esponendo cento gigantografie in bianco e nero e proiettando su schermi centosessanta diapositive a colori.
–
1975. Drawing science-fiction
An ants army, after fighting against mankind, dominates the Earth starting a new phase for the planet. Saul Bass' Phase IV is at the border between science and fantasy and captivates the jury, led by Harry Harrison for this year.
A retrospective exhibition, with a film selection curated by La Cappella Underground, is dedicated to Jack Arnold.
For the first time comics are present in the festival. And it is a great success. The Science-Fiction Comics Exhibition, which takes place in Bastione Fiorito, in Castle of San Giusto, presents this phenomenon exposing one hundred black-and-white photo-murals and projecting 160 colored diapositives.
Asteroide d'argento
xxx
xxx
Asteroide d'argento
xxx
xxx
Sigillo d'oro città di Trieste
xxx
xxx
Cain
— Hugo Vandervennes
La ragazza al di là dei cancelli del tempo
— Marc Ghens
Le mystère de la chambre noire
— Roger Amiot
Dialogue
— Chris Majka
Dance Macabre
— Ramin Reza Molai
Antonio Sant'Elia
— Vittorio Armentano
Il futurismo
— Vittorio Armentano
Sciany Maya Uszy
— Henrik Ryszka
Sdtacja Beszennosc
— Piotr Wojcienchowski
Jutro
— Marian Cholerk
Jasszunk Istent
— Felix Bodrossy
Il computer e l'enigma Leonardo
— Boris Zagriajski
Ike's Woman – Tina
— Jerry W.biehl
In Search of Ancient Mysteries
— Fred Warshofsky
The San Andreas Fault
— Bert Van Bork
Science in the Seventies
— George Tressel
Who's Out There?
— Robert Drew
The Tiny World
— Keith Merrill
Jupiter Odissey
— George Van Valkenburg
Omaggio a Jack Arnold
a cura di La Capella Underground
The Incredibile Shinking Man
— Jack Arnold
Westworld
— Michael Crichton
Revenge of the Creature
— Jack Arnold
Glen and Randa
— Jim Bcbride
It Came From Outer Space
— Jack Arnold
Tarántula
— Jack Arnold