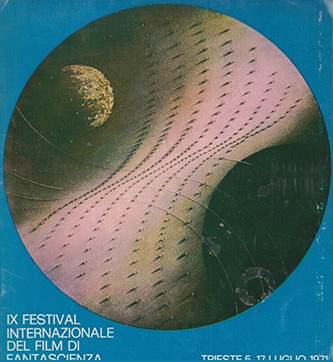 Segnali dallo spazio.
Signale – Ein Weltraumabenteuer, film di Gottfried Kolditz (Germania Est-Polonia; nella foto sopra), ottiene una menzione speciale della Giuria presieduta da Arthur C. Clarke, che decreta vincitore del Festival La morte viene dal passato di Boris Sagal (USA).
Sul fronte degli eventi collaterali, il 1971 è l'anno dell'espressionismo astratto con la personale dello statunitense Robert Rauschenberg.
Giuria: Arthur Clarke, Elio Bartolini, Louis Seguin, Donald Wollheim, Lajos Matos
Astronave d'oro
Hauser's Memory
Boris Segal
Asteroide d'argento
Roberto Antonelli
per La ragazza di latta
Asteroide d'argento
Iva Janzurova
per Pane, vy jste vdova
Sigillo d'oro città di Trieste
Ljubitelji cvijeca
Borivoj Dovnikovic-Bordo
Apollo 14: Mission to Fra Mauro
— Don Wiseman
La fantascienza siamo noi
— Corrado Farona
Children and Cars
— John Halas
Studium
— Joseph Gujdar
Tenebres
— Claude Loubarie
Un anno in Luna-ambiente terrestre
— Vernicov
Toillettes pour la bal
— Jean-Marie Deconinck
Un briciolo d'eternità
— Constantin Obrechkov
Gloria mundi
— Gyorgy Kovasznai
The Movement, Movement
— Bruce Parsons
Na dodranoc
— Janusz Zaorski
Vade-Mecum
— Max Massimino Garnier
Ljubitelji cvijeca
— Borivoj Dovnikovic-Bordo
Fosa común
— Rafael Gordon
Scarabus
— Geraldina Frydman
Vrijele vampira
— Nikola Majdak
Prometel XX
— Todor Dinov
Images-Frontieres of Photography
— Hugh Raggett
Lunakhod
— Kusis
Man in Space: the Second Decade
—Prodotto USA-NASA
Acceleration of the 70s
— Dick Swenson
I.C.A A Shrinking Word
— Henry R.feinberg
Energy
— Timothy Huntley
Messiah
— John Rapoport
IL SURREALISMO NEL CINEMA
A cura della Direzione del Festival con il contributo di Antonella Bragaglia; con la collaborazione della Cinemateca Nazionale di (Roma), della Cinémathèque Française (Parigi), della Cineteca Italiana (Milano).
L'ile de Paques
— Henri Storck
Paul Delvaux ou les femmes dèfendues
— Henri Storck
Le sang d'un poète
— Jean Cocteau
Retour a la raison
— Man Ray
La nuit fantastique
— Marcel L'herbier
La chute de la maison Usher
— Jean Epstein
Le voyage imaginaire
— Renè Clair
Un chien andalou
— Luis Bunuel
Les mystères du chateau de des
— Man Ray
Thais
— A. G. Bragaglia
Giulietta degli spiriti
— Federico Fellini
Surrealismos
— Guido Guerrasio
Madlena, mon amour
— Bogdan Zizic
Simon del desierto
— Luis Bunuel
Subida al cielo
— Luis Bunuel
Gdy spadaja anioly
— Roman Polanski
Violons d'ingres
— J. Brunius
Utazas a koponyam korul
— Gyorgy Revesz
Dreamscape That Money Can Buy
— Richter, Calder, Duchamp, Erns, Lèger,Ray
The Shangai Gesture
— Joseph Von Sternberg